Available via the Software as a Solution (SAAS) distribution model, you can manage your caseload with Pronto Consulting as a desktop application or within your Internet browser.
Whether it's probation, community corrections, parole, pre-trial, or electronic monitoring, we know the caseloads run anywhere from ten to several hundred clients at a time. With managing databases of that size, individually tracking client's progress, payments, and even the most routine tasks can seem impossible.
Pronto Consulting delivers a state-of-the-art application powered with the latest technology to meet the changing needs of community supervision providers, regardless of the size or intricacy of the offender management program.
As one of the first software management programs specifically developed for offender management providers, Pronto Caseload Solutions is designed to manage all aspects of the probation and electronic monitoring caseload. From case initiation to discharge, Pronto provides the information necessary to manage all offender supervision and reporting needs.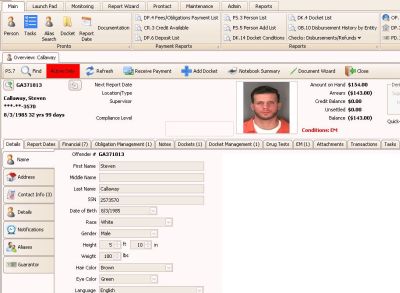 All your case information stored in one user-friendly database.
Whether you need to update payment and billing schedules for your client, include drug test randomizers, update warrants and supervision, or just utilize the document wizard for one-stop-shop communication on client profiles, Pronto Caseload Solutions has all the answers in a customizable software. Schedule a demo today sales@prontocmsoftware.com.